When we talk about Shanghai , the first thing that come to mind is the active day shopping and glittering neon lights that adorn the high rise buildings everywhere. Here you can see The Oriental Pearl Radio & Television Tower to the left and the famous Shanghai Bund to the right .
But located in Qingpu, west to Hongqiao Hub about 1 and half hour drive from city center is the Zhujiajiao Water Town – Best Preserved Ancient Town in Shanghai with a history of more than 1,700 years. Covering an area of 47 square kilometers (11,614 acres), the little fan-shaped town, being regarded as Shanghai's Venice, glimmers like a bright pearl in the landscape of lakes and mountains.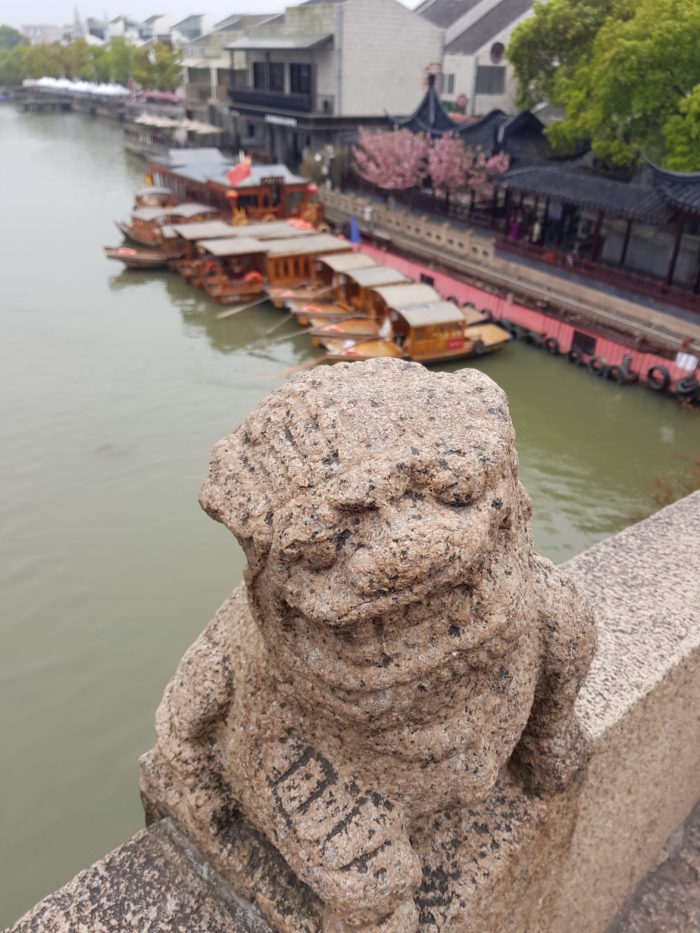 Fangsheng Bridge (Setting-fish-free Bridge) is the longest, largest and tallest stone bridge, with five openings both in Shanghai region. This bridge was built in 1571. On the bridge stands a stone tablet named Dragon Gate Stone, which is engraved with 8 coiling dragons encircling a shining pearl. On top of the bridge are 4 lifelike stone lions.
The"Fang Sheng" Bridge is said to be built by a monk , in around 1571 during the reign of Emperor Longqing of the Ming Dynasty, after many years of collecting alms.
The temperature in Shanghai when I was there in April took a nose dive, on the day I arrived. It was very cold , windy and temperature range from 7degC at night to 14deg C in the day. After a half a day walk here, I need to replenish my lost water from the skin but also some collagen to my skin. It is time to get back to the hotel for my Swan Secret , while enjoying the beautiful view of the HUANGPU River .