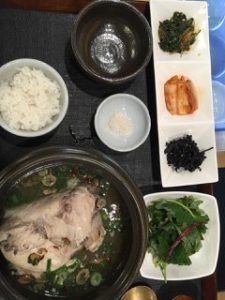 Just came back from Korea . While I was initially a little bit concern about having the GINSENG CHICKEN in Summer, I just could not resist the temptation. Samgye-tang or ginseng chicken soup, meaning ginseng – chicken – soup in Korean, consists primarily of a whole young chicken – filled with garlic, rice, jujube, and ginseng. This after having too many barbecue meat, grill meat as I am a bit of a heaty person.
This time I stayed at the Westin Chosun which is just beside the HWANGGUDAN ( The Altar). This is similar to the Temple of Heaven in Beijing where offerings are made to the Heaven , during the emperors' time.
There are many palaces around this area i.e. DEOKSUGUNG just a ten minute walks to the west from the hotel . However , the largest of them is the GYEONGBOKGUNG Palace which is further up north. For the larger palaces you may want to rent an ear piece for a guided tour . This is getting more popular nowadays and they have similar ones like the one at Forbidden City in China. The one in Korea , you have to press the number / pinpoint the location on the map. However the one in Forbidden City is using the GPS system where is can detect your position and tell you a story or two about the smaller palaces.
The love for Korean food and its medicinal properties were made popular by the Korean Movie, Dae Jang Geum (大長今) . It tells the tale of an orphaned kitchen cook who went on to become the king's first female physician. In a time when women held little influence in society, young apprentice cook Jang-geum strives to learn the secrets of Korean cooking and medicine in order to cure the King of his various ailments. It is based on the true story of Jang-geum, the first female royal physician of the Joseon Dynasty.
Have you seen another famous Korean movie called Winter Sonata. It made tourist the world over to flock to Korea scenic sights to take selfie/ wefies.