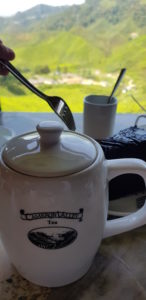 It was indeed a perfect day for a holiday on the Highlands and I mean any highlands. In Malaysia there is the Genting Highlands for the theme park and casino, Bukit Tinggi Higlands where you have Colmar Tropicale which I wrote about in March 2018, Frasers Hill if you are like going through a mid -life crisis and really need some time to be alone by yourself. This time we went to Cameron Highlands and the weather was really perfect – for a stroll in the tea plantation , for taking beautiful pictures , for breathing in the fresh air and for a nice breakfast at the tea house .
Some really go to Cameron Highland for a one day trip , but this highland famous for its cooling weather, strawberries , tea plantations etc. is work a day or two. One the way down we stop by a BIDOR, a small town in the state of PERAK. It was lunch time and we had Yong Tau Foo and bought some famous cookies synonymous with this town i.e. KAI CHAI PENG.
It was a very wonderful experience and we will definitely come back again. Have you tried tea with turmeric, which is well known for its many health benefits?
Legends has it that Cameron Highlands was initially discovered by British explorer Sir William Cameron in 1885 and gleefully reported back about their mild climate (at the time, temperatures barely exceeded 20°C). Sadly Cameron's maps were lost and little came of his discovery, until a second expedition was sent out 40 years later. Led by Sir George Maxwell, another colonial explorer, the mission to rediscover the highlands succeeded and their future was soon sealed with plans to develop plantations, holiday homes for perspiring Brits, and even a golf course.
Yong Tau Foo at Bidor, PERAK
Do you know that :
1) The three highlands mentioned are all located in the state of PAHANG. The biggest state in Penisular Malaysia.
2) Although the way up may be through other states . For Cameron it was only until recently you can only drive up there using a winding road via TAPAH, PERAK. Now you can drive up either via TANJUNG MALIM , PERAK and /or BENTONG, PAHANG.
Therefore do not forget to explore the small towns on the way up / down from Cameron Highlands.